For anyone who actually knows what a real buffalo chip is, I'm sure you're a little horrified to see a recipe for "buffalo chips". Just hang in there and keep reading. ;) When I was younger we had a tradition when family came to visit to go have a girl's night. So we'd all get in the car and drive a little ways to a fun pizza place in a "close" town. (It was not unusual for us to drive up to 2 hours to go out for a dinner out! Gotta love living in the middle of nowhere!) We always got hamburgers with fries, and lots of fry sauce *YUM*, and for dessert we'd have buffalo chips. Now it's time to use your imagination a little bit. For the buffalo chips they bring out a small cake pan right out of the oven, and inside is a piping hot cookie with some super cold vanilla bean ice cream. Totally awesome twist on cookies and milk! The other day I was craving these little beauties, so I decided to make a smaller version at home. I hope you enjoy them as much as I do. :)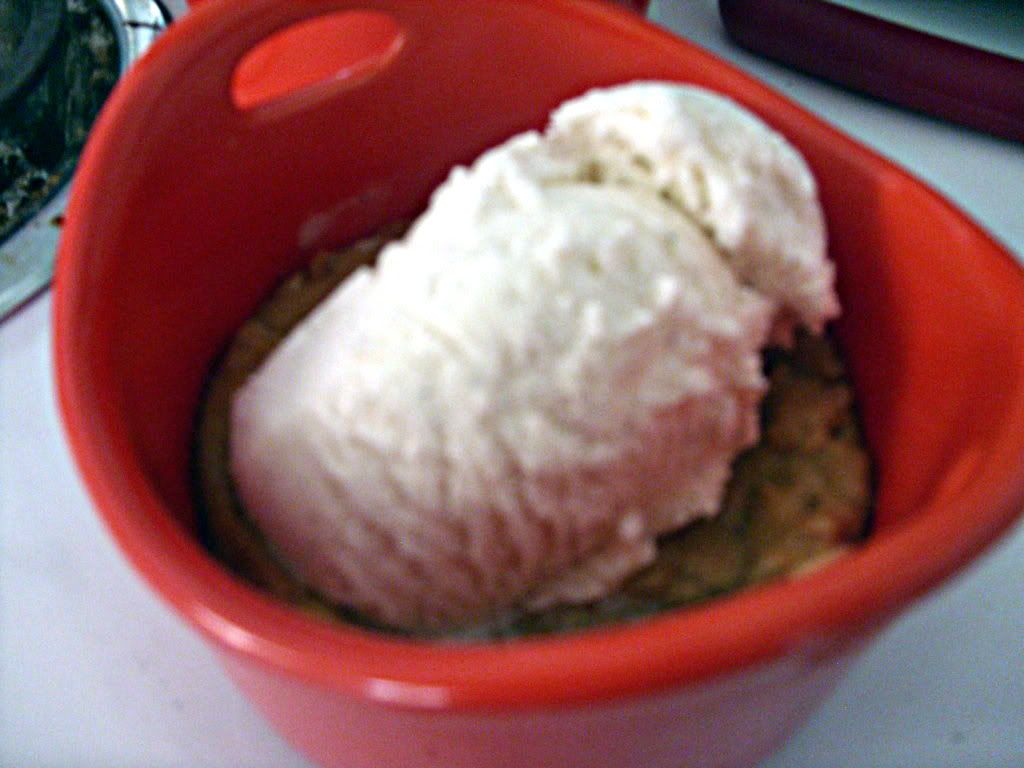 (Food photography is obviously not one of my talents. I need to work on that. You get the idea though. Ice cream, hot cookie, warm melted goodness? I thought so.)
"Buffalo Chips"
1 package pre-made cookie dough, any flavor
Vanilla bean ice cream
Preheat oven according to package instructions.
Push 2 pre-portioned cookies into the bottom of a ramekin.
Bake according to package directions. The dough will puff up considerably.
Take a spoon and gently press it down and let cool slightly.
Add a scoop or two of ice cream. Enjoy!
Super simple, right? They're also super delicious and would be awesome at any summer bbq or party. The ramekins are nice so you get individual portions, although you could share one if you really wanted too. You can also make them in a larger pan if you want one dish you can all dig into. :)
Happy Friday! Have a wonderful weekend. :)