Yesterday we all woke up with an unwanted visitor. Head colds! Blech. I thought maybe I'd get out of it easy, but it seems to be sticking around. Tomorrow was also
World Nutella Day
. What a wonderful day! I was told Saturday was also soup day, but I was so busy I never did get around to making any soup. I had really wanted to try and make butternut squash soup, but maybe another time.
Now back to the Nutella. I'm not sure there's much better than hazelnuts and chocolate. Put it in a spread and it just makes it even better! So when I heard there was a day just in celebration of this delicious treat, I was thrilled to participate by using nutella to make something. That's right, just give me an excuse to use it. ;) I've always enjoyed jam thumbprint cookies, and thought they'd taste great with nutella instead of jam. I think my mom is still cursing me for sharing. These cookies are great just the way they are, but if you wanted a little extra chocolate flavor, you could add a little cocoa to the dough. I'm not a cooking expert, but you might need to substitute however much you use for some of the flour since the dough is already pretty crumbly.
Nutella Thumbprint Shortbread Cookies ♥
1 cup butter, softened
2/3 cup sugar
1/2 teaspoon vanilla extract
2 cups all purpose flour
1/2-3/4 cup Nutella
In a mixing bowl, cream together the butter and sugar until thoroughly combined. Add the extract and flour. Mix until all ingredients are incorporated. The dough will be crumbly. Gently knead the dough with your hands to help it form a ball. Wrap in plastic and refrigerate for 30 minutes.
Preheat oven to 350 degrees. Line 2 cookie sheets with wax paper. Roll the dough into 1" to 1 1/2" balls and place them on the cookie sheets. Lightly make an indent with your thumb in the center of each cookie to form a well for the nutella. Using a teaspoon, fill each indent with nutella. (This can be kind of messy, but I won't tell if you lick the rest off your fingers once your done!) Bake for 15-18 minutes until lightly browned. Cookies will still be slightly soft. Transfer to a rack and allow to cool before serving. Enjoy!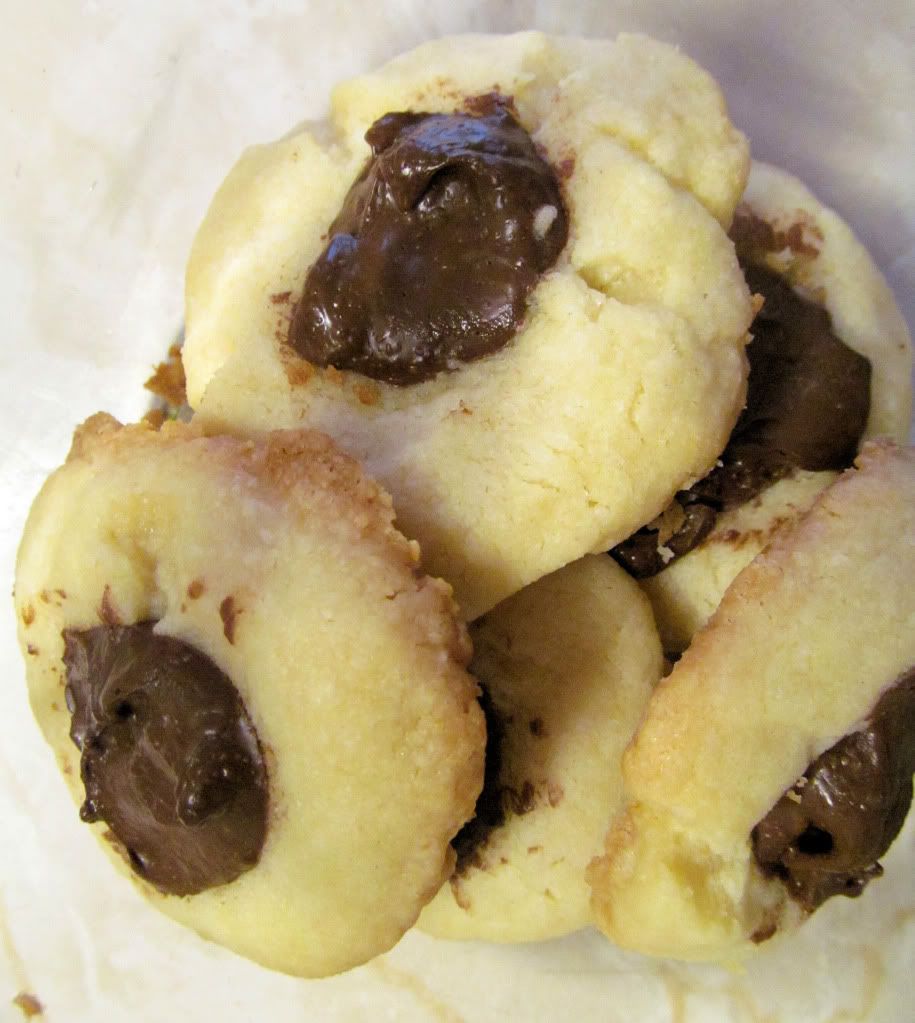 I was in a hurry and made my balls a little large, so I ended up with big cookies. They were still as equally delicious, just not small and delicate looking like I'm used to. Don't they just look yummy? Go ahead and try them if you dare. You might end up with a new addiction. ;)
Linking to: