I can't believe Valentine's Day is already less than a week away! Last year we had a yummy homemade dinner that my husband and I both helped make. While I was busy in the kitchen, he snuck downstairs at my in-laws and set up a beautiful table with rose petals, candles, etc. I was completely blown away. He also ended the night by proposing at a lookout which was pretty darned awesome. Best Valentine's Day ever. Period.
I've been hoping to make this year another great year (hopeless romantic!), and I think I've done a pretty good job so far. I volunteered to do dinner this year and set everything up. I'm still trying to tweak the menu so that I'm not exhausted from cooking by the time dinner's over, but I'll share next week along with some decorating ideas. My hubby also has no idea what I'm making, and I'm hoping to keep it that way so he's super surprised when we have our date-in.
Here's some more things that I've been doing, or plan to do!
This WONDERFUL idea came from
Mommy by Day Crafter by Night
. My husband has LOVED getting these little valentine's on his pillow each night. I'm always terrified he'll catch me putting it out, but he hasn't so far. I know it's a little late to do the full 14 days, but you could pick out your favorites and just do a few days or put together a cute little gift for Valentine's Day. It's been pretty inexpensive so far too.
I love doing art projects with my little guy's hands, and have been trying to come up with some sort of hand related valentine to give to family members. I wasn't coming up with anything cute or workable. Then I saw this, and knew it was exactly what I was looking for.
Brown Paper Packages
has the basic printable for the one shown here, but also has some picture ideas for how to customize it for more than one child. Absolutely LOVE this and so will any grandparent, parent, or relative for that matter. Go check it out. :)
Last year I did something similar to these cupcakes in a jar by
Cakies
.
I made red velvet and frosted them with a white chocolate cream cheese frosting. They turned out extremely cute and were delicious. I got the idea from my mom, but it's probable she got them from here because she even had the same little wooden spoons for me to use. This year I'll use the same idea, but with mugs and a different cupcake recipe.
When I saw this sign at
In His Grip
, I instantly fell in love with it. (The other decorations are great too!!) I probably won't make this before next week, but I really want to do a version I can display all year round.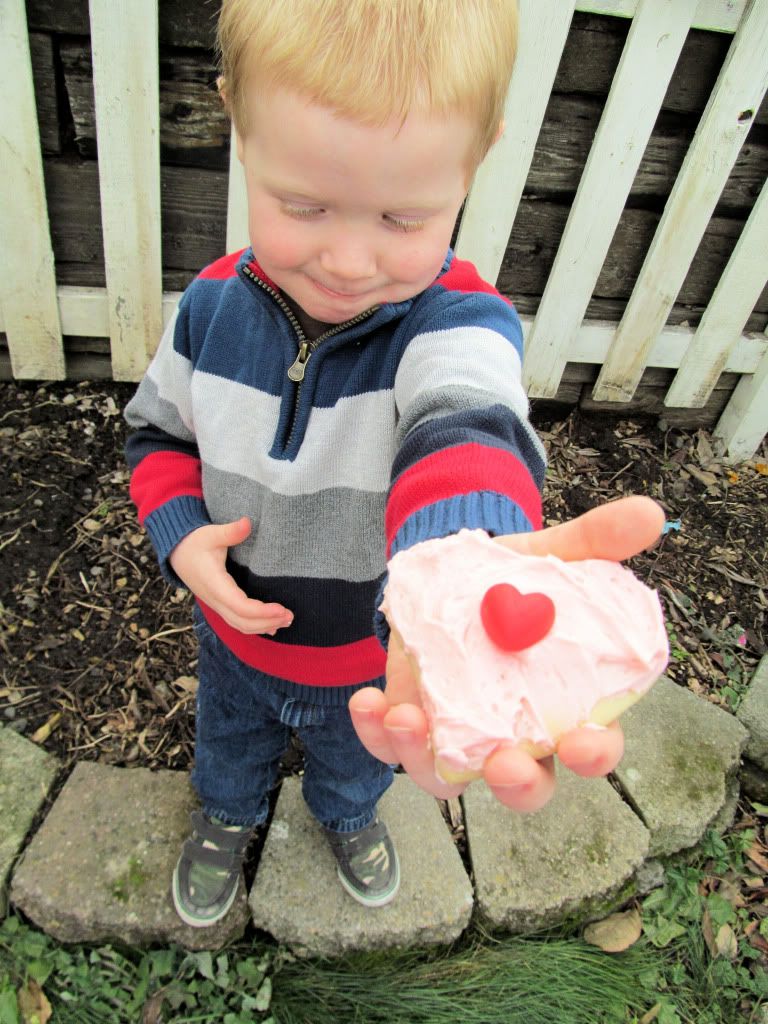 Lofthouse sugar cookies have long been one of my greatest nemesis. There's always an inticing display of them somewhere I have to walk by while I'm grocery shopping, and I will polish off several at a time if I cave in and buy them. When I got an e-mail from
Brown Eyed Baker
with a knock-off recipe, I swore the devil had found my inbox! These truly are one of my greatest temptations, and I've resisted making them until now. I made them as props for Valentine's Day pictures of Xave to give to family, and haven't been able to stay out of them! So good and the pictures turned out great. Only problem will be trying to pick which one to send out. :) What have you done for Valentine's Day this year, or what are you planning to do?