Hey everyone! You're getting two posts today cause I think you're extra super special. :)
A few weeks ago my honey and I found ourselves with some time in our local (ha!) metropolitan area. We don't get out of town very often, so we decided to go look through some shops before we had to head back home. One of the stores we stopped in was West Elm, and I LOVED just about everything they had in the store. I especially fell in love with their origami pillows, (shown HERE) and decided to try and make my own when I got home. The original was $34. I made my version for less than $10 using some coupons and a pillow form I already had from some pillows I got at Ross.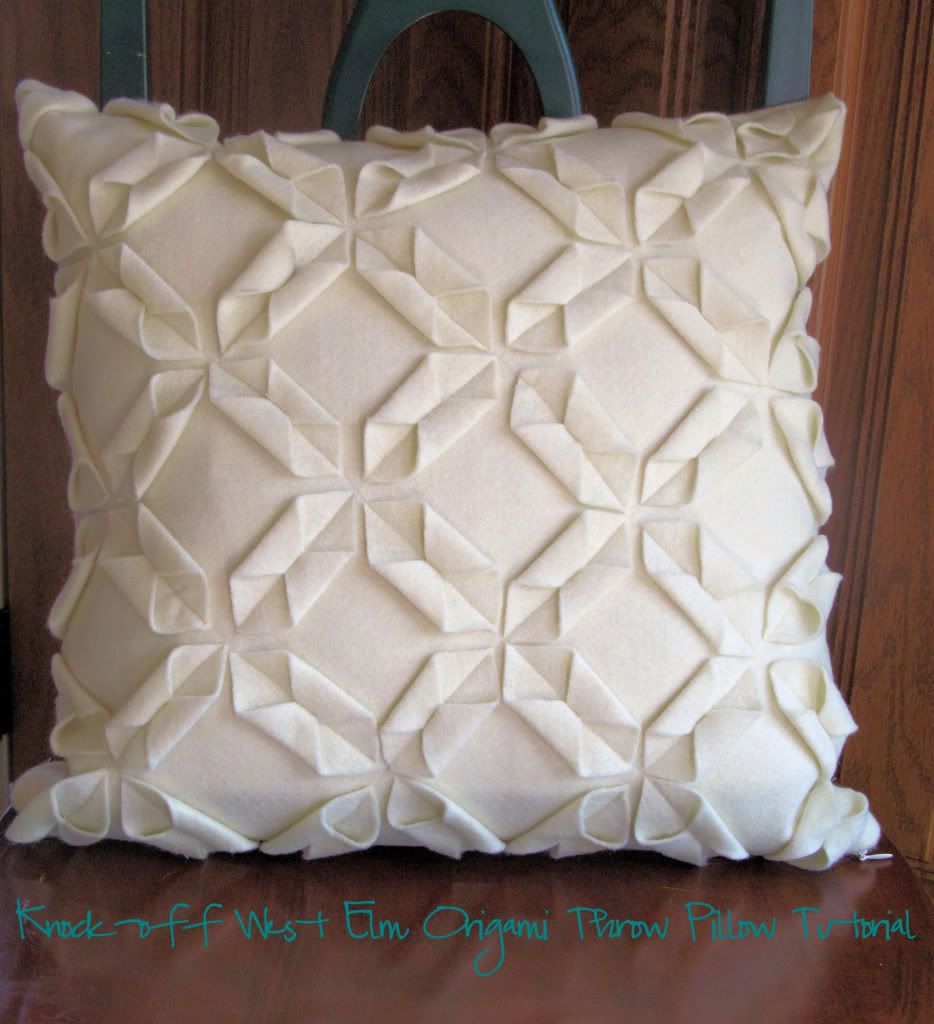 Pretty close, huh? Pillows are one of my favorite things to make, and this one was no exception. The original was made with wool felt, but I couldn't find it locally, so I went with the best felt I could find. It still turned out great. Please don't confuse "premium felt" with crafting felt though. I don't think that would look quite as nice. Here's how to do it:
West Elm Origami Throw Pillow Knock Off Tutorial
Materials Needed:
*3/4 yd premium felt in choice of color (Mine was 72" wide. Adjust amount for shorter widths)
*Thread in closest color match possible
*Invisible zipper in matching color
*Basic sewing supplies (pins, scissors, sewing machine, etc)
Cutting dimensions:
*49- 2 1/2" squares (That's not a typo. You really need 49 squares exactly)
Step 1: Carefully cut out your fabric pieces keeping them as square as possible. Stack up the little squares and take them to your sewing machine. Get ready to sew.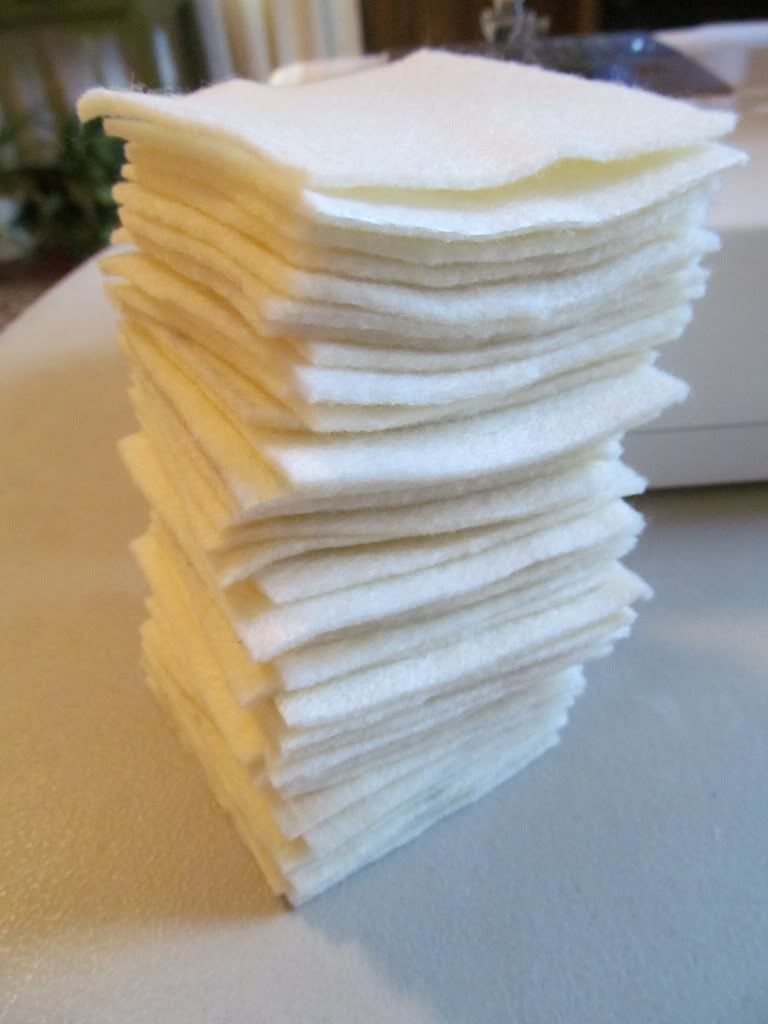 (Here's all my squares stacked and ready to go!)
Step 2: Take one square and fold it in half to make a triangle with right sides together (see picture). Sew as close to the edge across the tip where the two corners meet (see 2nd picture). Do not clip the string. Continue folding squares in the same manner and "chain" them one after the other. This will save you a lot of time and thread by not cutting in between.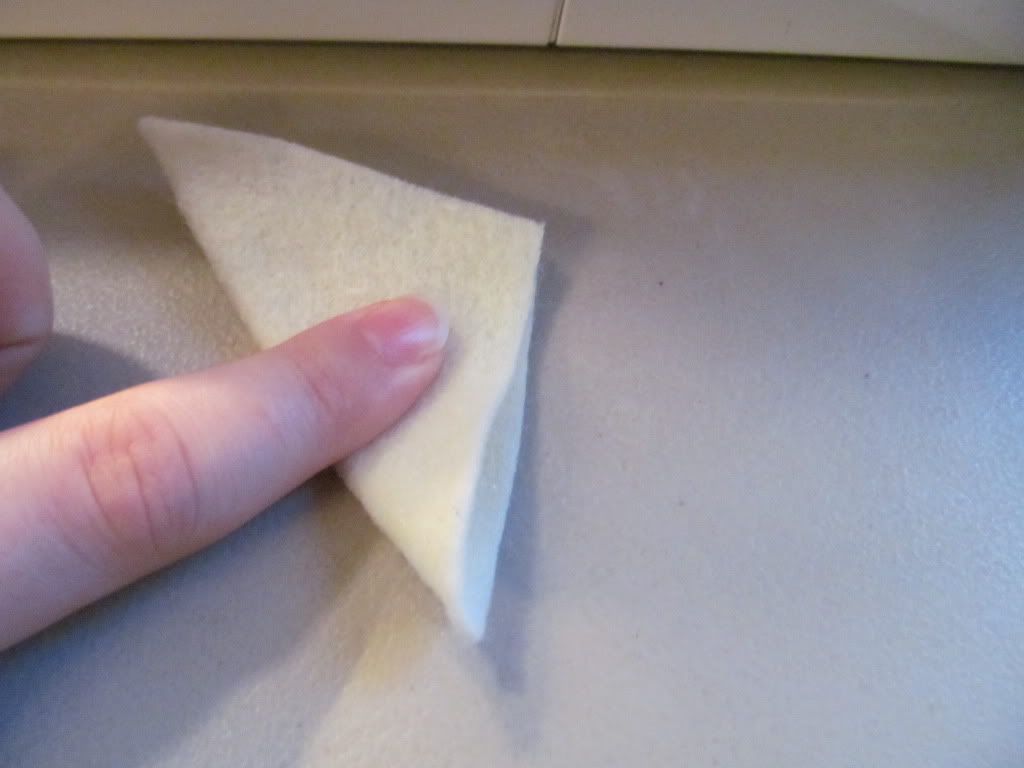 (How to fold your squares)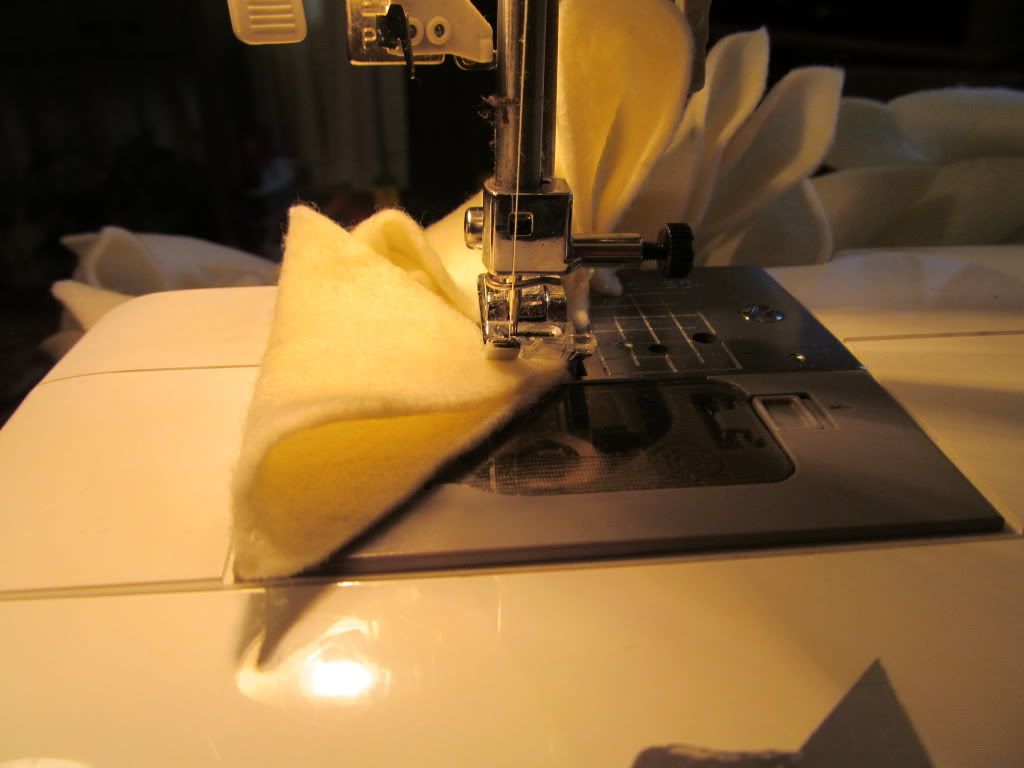 (Stitch as close to the edge as you can. You can sort of see the rest of my "chain" forming in the background)
(This is what it should look like when you're done. A whole long strip of puffy triangles.)
Step 3: Clip the threads between each triangle, leaving as little thread showing as possible without clipping fabric or unraveling the stitching.
Step 4: Carefully turn your "triangles" right side out. Don't worry about trimming the excess fabric off the tips or pressing seams. This is what you should have when you're done: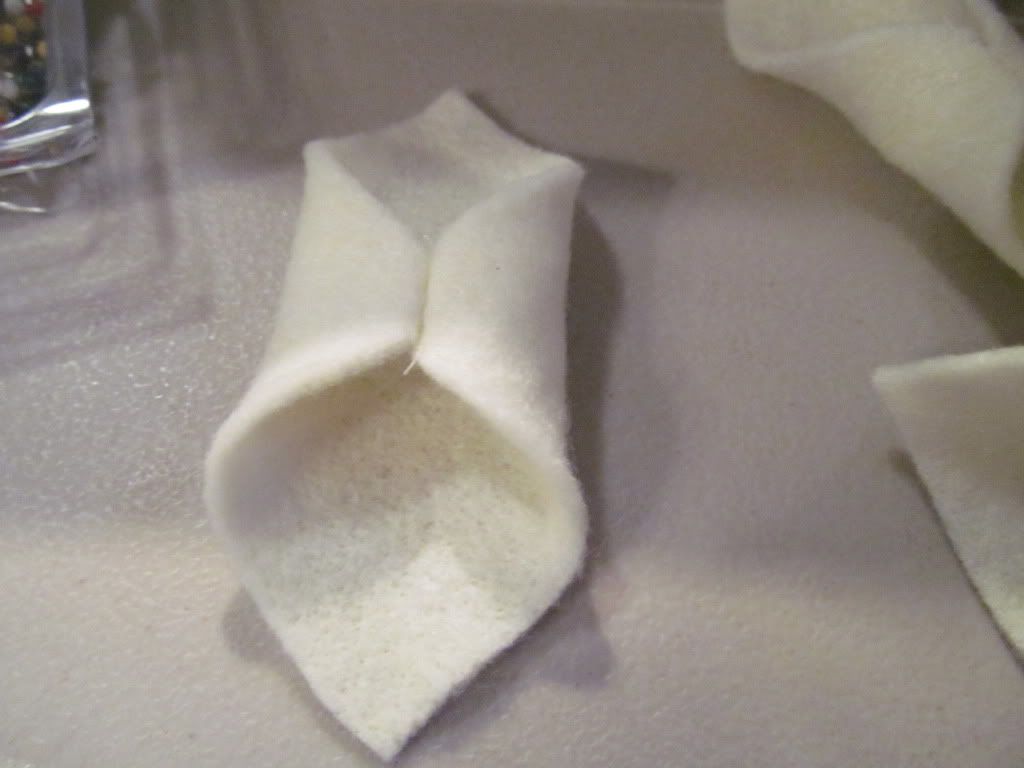 (These kind of remind me of cannoli shells! In fact, I'm going to refer to these as cannolis for the rest of the tutorial)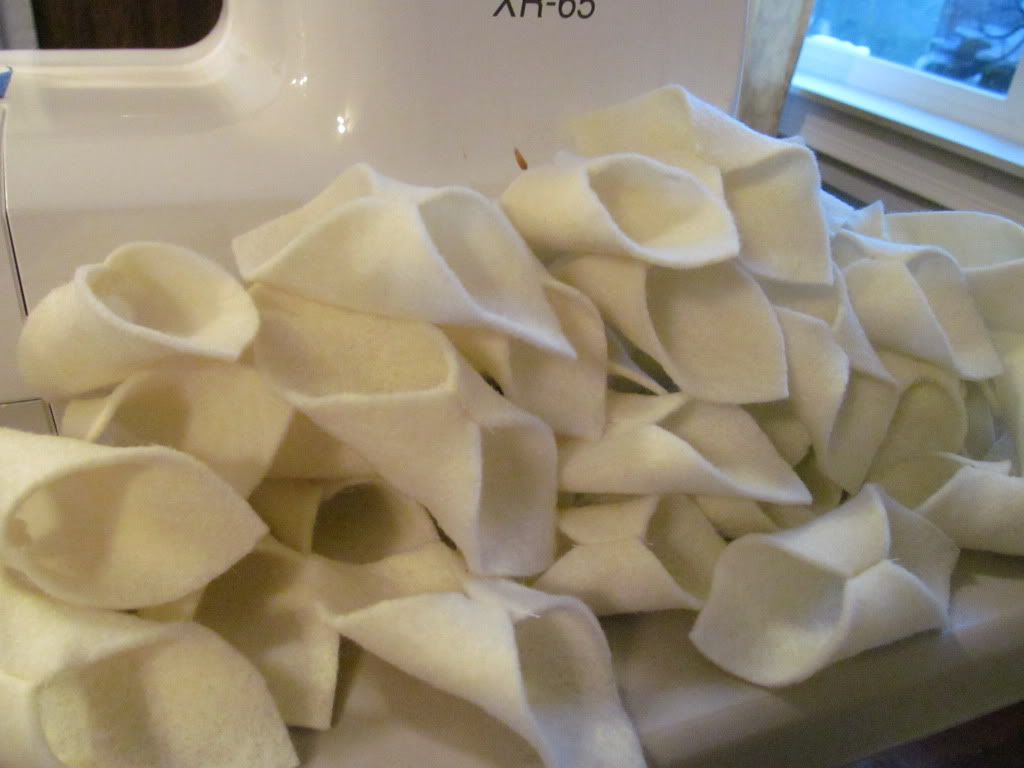 (Just for fun, here's what the whole lot of them look like.)
Step 5: Lay one 19" square right side up on a table or work surface. Measure in a half inch from each edge of one of the corners. Mark with a pin.
Step 6: Flatten a cannoli so the center seam is lined up with the end points. Line up one of these points with the pin on the large square and pin in place. (You want to create a diagonal line from corner to corner with cannolis, so keep that in mind while placing.) Continue placing cannolis end to end leaving a small gap between each until you reach the opposite corner.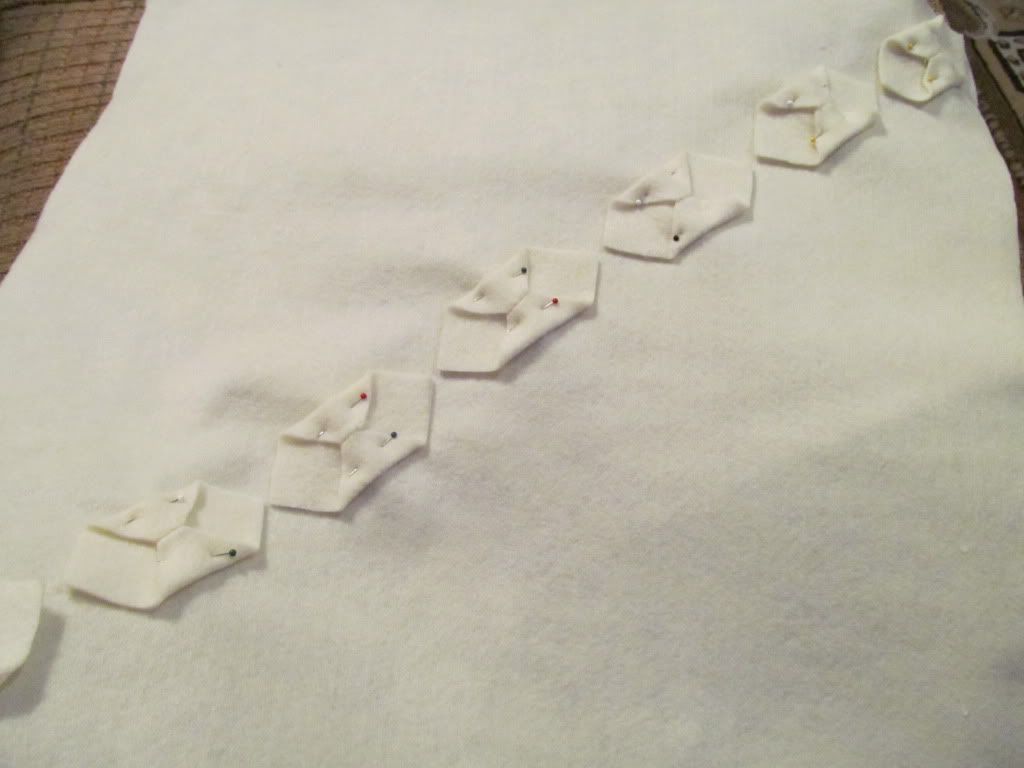 (Here's what it should look like at this point.)
Step 7: Begin placing cannolis going the other direction at each gap, creating a four way intersection. (see picture)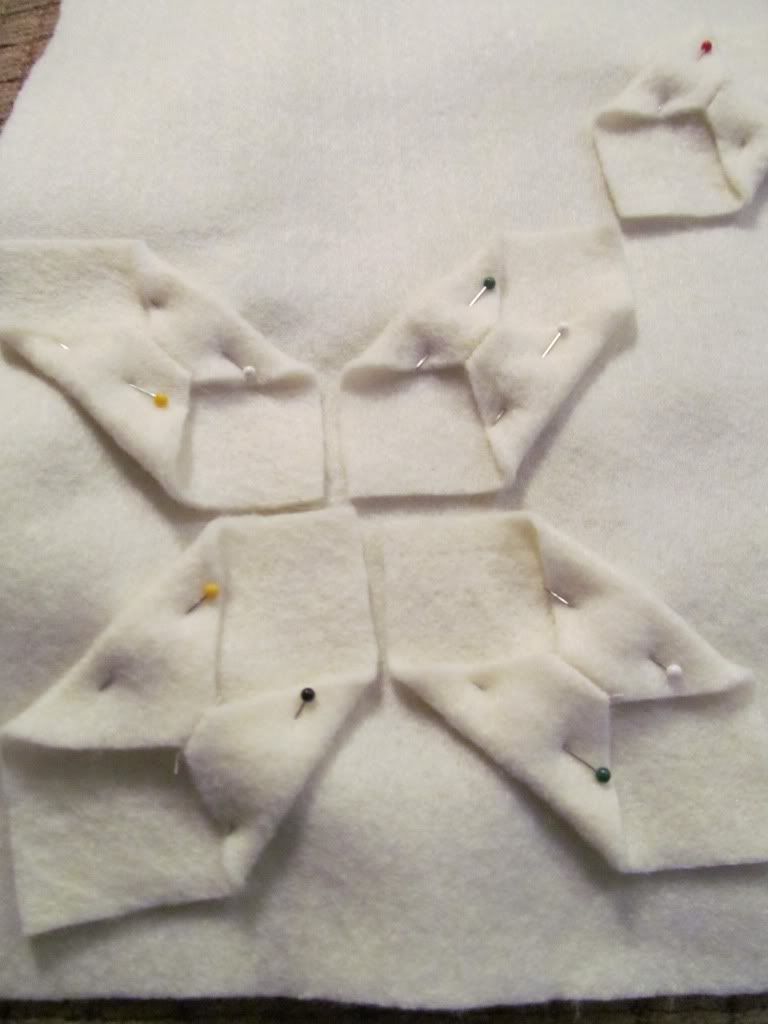 Step 8: Continue pinning your cannolis end to end on each new row, just as you did with the first row, until you reach the edge (there should be a gap for the 1/2" seam allowance).
(This is upside down if you look at all my other pictures, so don't let that confuse you. Just make sure you're creating new diagonal rows that cross at the gap of your original row.)
Step 9: Now that all you're rows are finished one way, begin pinning cannolis between the gaps of the rows you just created, horizontal to the first row.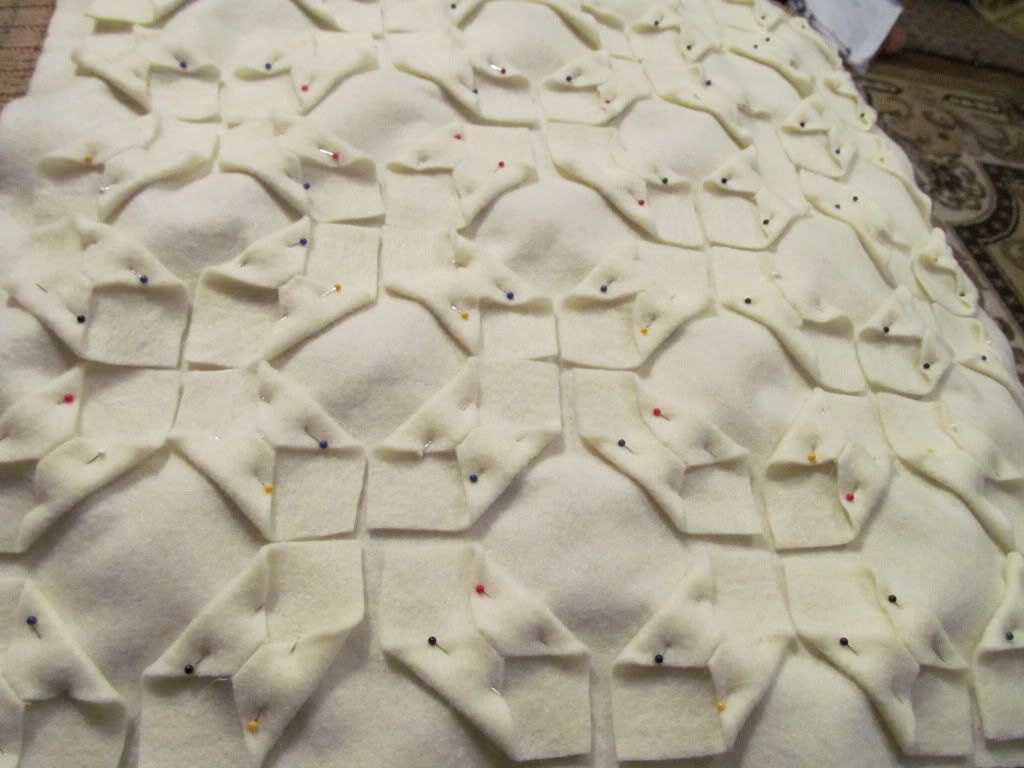 (This is what you should end up with.)
Step 10: Beginning on any row (I started on the original center row), Stitch through the center of all your cannolis making sure to stitch across the point and center seams.
Step 11: Continue to stitch down the center of all the rows. The front of your pillow is now done and should look something like this: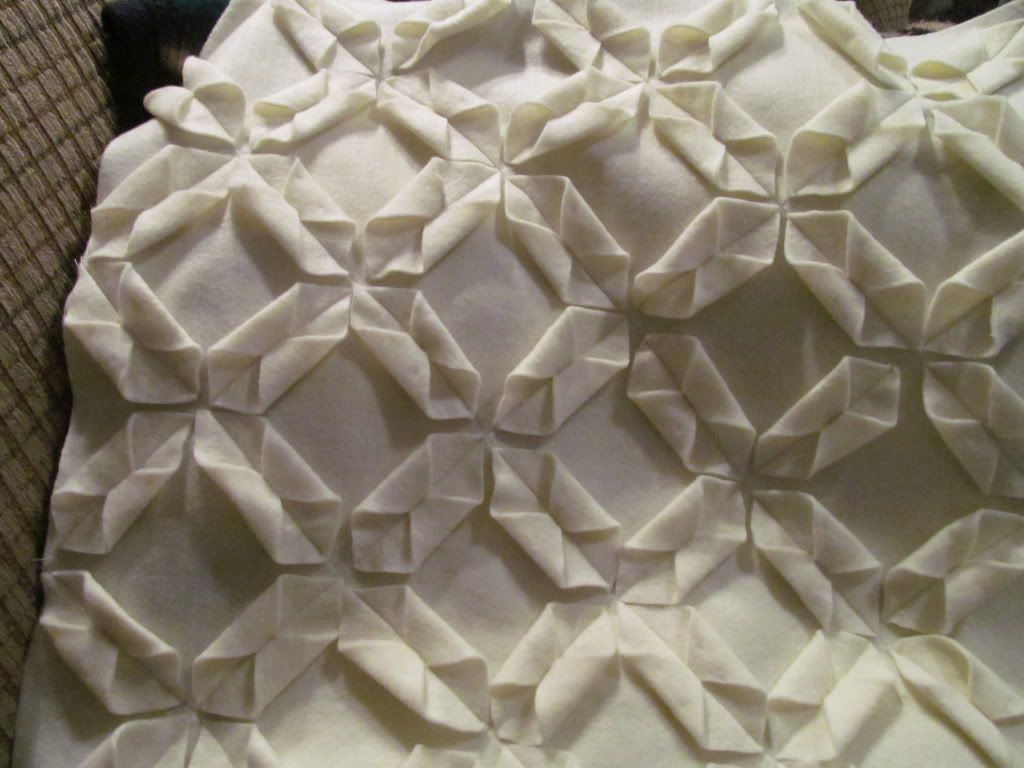 (Pretty, isn't it?)

Step 12: Shorten your zipper to fit along one end of your pillow. Sew on your invisible zipper following the manufacturer's directions or your favorite tutorial, except adjust the seam allowance to 1/2". (This was my first invisible zipper and was really intimidating but ended up not being too hard!) Trim some of the excess fabric for a cleaner look.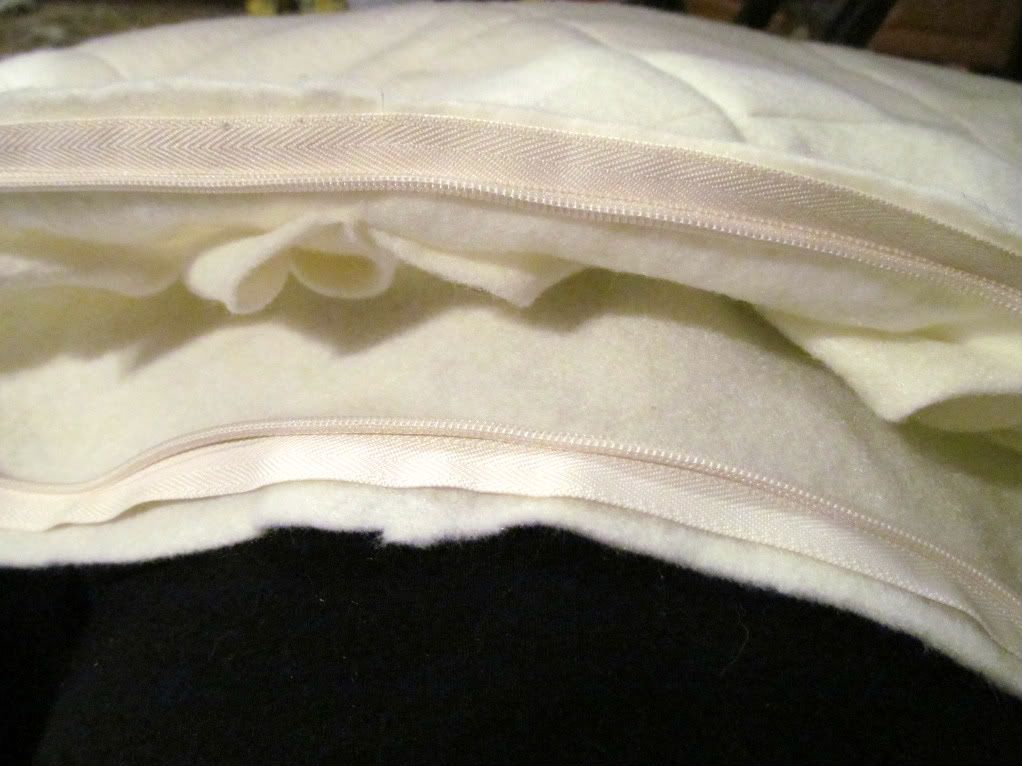 (Here's my zipper after it was sewn in and before I'd trimmed my edges.)
Step 13: Continue sewing around the edges of the pillow (right sides together) with a 1/2" seam allowance. Clip your corners, turn, push out the corners, and then stuff that puppy! You're all done! :)
Be sure to let me know if you make this and link up a picture of the project so I can see how yours turned out too! I'm really curious how this would look in other colors. :)
(I did something goofy and accidentally deleted my entire linky list for this project. {Just about had a heart attack!} I've repopulated it as best I can, but if you're missing from the list, please let me know so I can add you back. Thanks!)